Which scooty is better for you? Yamaha Fascino 125 FI or RAYZR 125 FI
You probably went to the showroom to check out the Yamaha Fascino. But something happened while you were assessing your choice. you spotted another cool looking scooter that is more aggressive looking and suddenly you are not double minded as to which one to buy. Both the scooters cost pretty much the same. This article should help you decide between the two beautiful looking scooters.
The125 cc 8.2 HP and 9.7N.m torque engine which powers both the scooters has been made street smart. The company guarantees 30% more power and 16% more fuel average. This puts both the scooters in the 125 cc premium range of scooters. The engine start is surprisingly quiet. The exhaust note from both the scooters sounds like that of a bike. The company claims an average of around 54 KMPL, which is pretty good.
While both the scooters have a common core, the design concept is like the North and South pole. The scooter has to fall in the hybrid or the retro category to attract attention of the buyers. The scooter/bike hybrid RAYZR and the retro Fascino do just that. They are catching fancy of both kind of buyers. The RayZR also comes in a rally variant which offers funked up color options.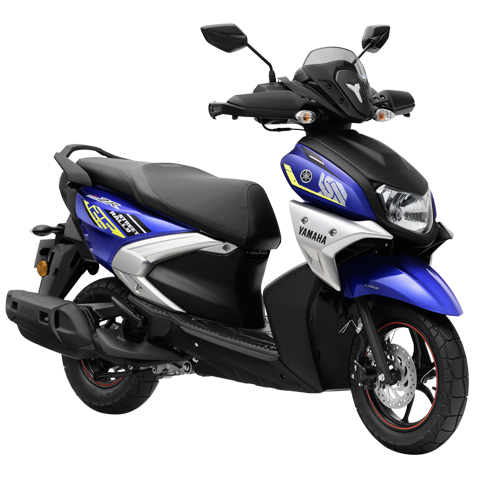 Even though you may go with a firm mind, you will definitely be tempted with the other one. So which scooter should you choose?
If you are investing in a scooter which costs costs around 90K on-road, let us assume that you are someone who cares about your image. This is a very important factor that should be considered before deciding which one of the two should you buy.
Age Factor
What has age to do with it, you say. It's just a number after all. Well, The younger generation which is very much into the latest trends have an advantage of choice. They can socially afford to drive around a bike/ scooter hybrid or a retro scooter. The 'young' age bracket may go up to 42 of course. Depending on what the person can carry.
Physique Factor
The rear end of the scooter should tell you what kind of physique would blend in. Consider your body type and ask yourself which scooter would make you look even more cool? This is only an opinion of course.
Yamaha
Fascino
We apologize for showing only male representations.
Yamaha
RayZR
RPMD does not believe the right kind of body type. We believe in the right kind of vehicle for you.
Before you make your decision. Make sure you take a photo of yourself seated on both the scooters from different angles and then decide which one looks good on you. Do not feel shy to take photos. INR 90K for a scooter is pretty hefty. Test drive both the scooters and wait for that bond or connect with the scooter, which you will definitely feel during the ride. Like the indigenous aliens in the Avatar movie and their pandora connect with the animals.
So besides the obvious concept, what else is different between the Yamaha Fascino and the RayZR
Advantage: Yamaha Fascino 125 FI
The seat height is slightly lower and with a narrow leg space it would be easier to handle. Would be easier to manage in city traffic.

Headlight being fixated on the handle bar, it will be easier to ride this during the night.

Color black has a tendency to look aged more quickly. This contains less of black plastic, hence comparatively it will be easier for the user to keep the new look for longer.
Advantage: Yamaha RayZR 12 FI
Legroom in the RayZR is comparatively bigger. So, if you plan to carry a pet along on your rides, we recommend that you consider the RayZR.

Being shorter in length, the RayZR will be easier to maneuver in city traffic

Being shorter in length, parking would be easier on this one.
Specifications
| | | |
| --- | --- | --- |
| Specification | RAYZR 125 FI | FASCINO 125 FI |
| ENGINE | | |
| Engine type | Air cooled, 4-stroke,SOHC, 2-valve | Air cooled, 4-stroke,SOHC, 2-valve |
| Displacement | 125cc | 125cc |
| Bore & Stroke | 52.4×57.9mm | 52.4×57.9mm |
| Compression ratio | 10.2:1 | 10.2:1 |
| Maximum HP | 6.0kW(8.2PS)/6500r/min | 6.0kW(8.2PS)/6500r/min |
| Maximum torque | 9.7N.m(1.0kgf.m)/5000r/min | 9.7N.m(1.0kgf.m)/5000r/min |
| DIMENSIONS | | |
| Fuel tank capacity | 5.2L | |
| length/ width/ height | 1880 / 685 / 1,190 mm | 1920/ 685/ 1150 mm |
| Seat height | 785 mm | 780 mm |
| Wheelbase | 1,280 mm | 1280 mm |
| Minimum ground clearance | 145 mm | 145 mm |
| Kerb weight (oil and full fuel tank) | 99 kg | 99 kg |
| Under-seat storage | 21L | 21L |
| CHASIS | | |
| Suspension type (Front/Rear) | Telescopic fork/Unit swing | Telescopic fork/Unit swing |
| Tyre size (Front) | 90/90-12 Tubeless | 90/90-12 Tubeless |
| Tyre size (Rear) | 110/90-10 Tubeless | 110/90-10 Tubeless |
| Front fender | | Metal |
| UBS | Equipped | Equipped |
| Brake (Front) | Disc(190mm)/Drum | Disc(190mm)/Drum |
| Brake (Rear) | Drum | Drum |
Both the scooters are simply amazing and worth owning. Chose between the positives which both the scooters offer and which ones would suit your needs the most. Yamaha has left no stone unturned as far as specifications and looks are concerned. Each one has a very specific appeal so go for the one which appeals to you more. Wait for one or two days before making the choice. No matter which one you choose, both the scooters will make awesome insta stories.